Leuven - Ljubljana technical support trip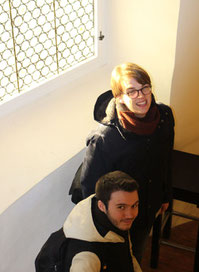 From 18 to 23 January 2017 a small delegation existing of two students: Jarn Ceusters and Giel Baertsoen one teacher Diederik Roelandts and our ICT-coordinator Bjorn Vandegaer went on an intervention mobility in Ljubljana, Slovenia. This small group was tasked with helping the Slovenian students and coordinating teacher of the Strip2Identity project with problems with their comic. Although the Slovenian delegation had the heart to work on their comic they lacked the some of skills to do so. This is where the Belgian delegation members stepped in. During their stay they gave a workshop around Office 365 as well.
This visit was a good opportunity to have a cultural visit of Ljubljana. Some of the cultural hotspots the Belgian delegation got to visit were for example the smaller city of Bled an hour away from Ljubljana, Ljubljanski Grad (Ljubljana Castle),… A few of the obstacles we had to overcome were transnational communication. For example a difference in interpretation due to being only able to talk through various online media. This visit was a stepping stone to overcome these issues, with opportunities for a growing network.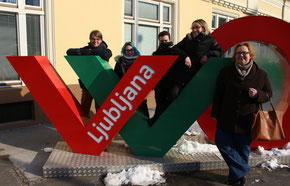 Both delegation had to show flexibility from time to time, the Belgian's had to be flexible in problem solving and helping out the Slovenians. The Slovenian members on the other hand had to be flexible in providing the tools and workspace for both delegations.
At the end the mutual flexibility proved to be the driving force behind this successful mobility. The visit might have been short nevertheless it was a productive and enriching experience.