Transnational mobilities
Project delegations visiting each other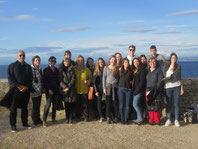 Potsdam visits Ljubljana
On 5 October 2015 we arrived after a 1.5-hour flight at 10.30 pm. The day after we were welcomed in a really nice way and already enjoyed Slovenian dishes like "potica". The Slovenian students showed us their school in the form of a nice presentation, a short tour through the school and a presentation on our comic book project work. After lunch we did a tour through Ljubljana and on Wednesday we visited the ethnic museum. Thursday and Friday we visited the Notranjska region: Postojna caves, Predjama castle and the Slovenian cost (cities of Piran, Portorož, and Koper).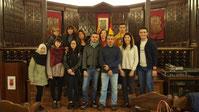 Ancona/Chiaravalle visits Segorbe
Strip to Identity has reached its cruising speed! While project delegations from Ireland, Norway, Belgium, Italy and Slovenia met in Potsdam, Belgian pupils, teachers and headmaster met the Italians in Ancona for a press conference and presentation of the comic book dispenser, Spanish and Italian delegations met in Segorbe. Also this visit reached the local press and here's the proof. Read all about it here... or directly at "actualidad.segorbe" and the school website.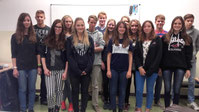 Ljubljana visits Potsdam
(summary to appear here soon)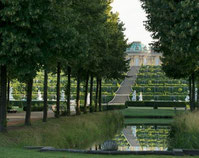 Leuven visits Potsdam
From 29/4 to 4/5 class 5 IPM (international project management) is travelling to visit Potsdam (city and partner school) and Berlin on a programme made by coordinator Dirk Staf as part of his long-term teaching mobility at the Potsdam Einsteingymnasium. It will be a learning experience consisting of cultural and historical highlights, workshops about dictatorships throughout German history, resistance against totalitarianism and opportunities to feel the heartbeat of the German capital city and its Brandenburg satellite.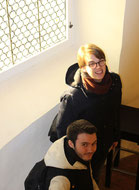 Leuven visits Ljubljana
From 18 to 23 January 2017 a small delegation existing of two students: Jarn Ceusters and Giel Baertsoen one teacher Diederik Roelandts and our ICT-coordinator Bjorn Vandegaer went on an intervention mobility in Ljubljana, Slovenia. This small group was tasked with helping the Slovenian students and coordinating teacher of the Strip2Identity project with problems with their comic. Read on here...