SEN teaching
General introduction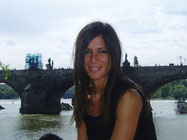 Martina Giuliano, Italian SEN teacher, is carrying out activity C3 within the Strip to Identity framework. Her activity is officially a long-term teaching mobility of 11 months, divided into smaller fractions over a 3-year period.
Martina will make a partner school overview of all techniques and methods offered and used in order to make reading and learning easier for all pupils, including disadvantaged pupils and pupils with learning difficulties or handicaps.
As an experienced SEN teacher in Italy, Martina is well placed to categorize what is on offer in the project partner schools.
Long-term mobility pupils in Norway, Ireland and Germany will be the first to share their learning experiences and learning impact with us through this website.
Additionally, this section of the website will also offer reports about the content of special courses Martina followed on subjects like autism, autism spectrum disorder, dislexia and other learning disorders.
Interviews with
Gaby Moyaerts: Buddy project coordinator, a study project - supported by the Leuven city council - to help pupils with specific homework needs.
Greet Cauwenberghs: Miniemeninstituut vice-headmaster in charge of SEN-teaching projects.
Johan Spelmans: Study field advisor, linked to the local pupil counselling office (CLB)
Jan De Ceulaer: Headmaster of TERBANK, special school for pupils with a handicap.
Anke Troch, diagnostic and study field advisor (CLB)
Piet De Mulder, director of Leuvense Katholieke Scholen aan de Dijle
Frank Baeyens, director of Heilig Drievuldigheidscollege, Leuven
Visits to
Courses about
Job shadowing
Ellen Laureys, special needs counsellor at Miniemeninstituut and Windekind
teachers of English at Miniemeninstituut (technical and vocation school) and neighbouring schools (general education)
Report (part 1)
SEN Analysis Italy Belgium
Part 1 of Martina Giuliano's analysis on the educational and special educational needs system contrasting Italy and Belgium.
Edu_SEN_Italy_Belgium_Part1_Martina.pdf
Adobe Acrobat Document
454.1 KB
Report (part 2)
General and SEN reading strategies
General and SEN reading strategies to improve reading comprehension among pupils.
General_and_SEN_reading_strategies_Part2
Adobe Acrobat Document
524.2 KB
Reading strategies
Practical strategies to improve reading skills in the classroom
reading_strategies_4theclassroom.pdf
Adobe Acrobat Document
269.0 KB
Personal report