Comic book master class
by Sento
Master class offered by Sento, a Valencian draughtsman and artist

On 5 and 12 February 2015, students who are participating in the European Project Erasmus+ "Strip to Identity" were given a master class by the Valencian artist Sento Llobell. It was a pleasure to hear him talking about comic books origins, their evolution and especially about narrative patters and secrets of such genre.

Vicent Josep Llobell Bisbal, better known by his nickname Sento, was born in Valencia on 8th December 1953 and he is a Valencian comic book artist and illustrator. He got a degree in Fine Arts in Valencia, and after that he started working as an anatomy professor in the same college from 1979 to 1981, in this year he stopped teaching, fully dedicating himself to drawing comics.

He was labelled as a member of the so-called 'Nueva Escuela Valenciana' (New Valencian School) in the 80s, inside the "clear line" movement. He has a vast book on advertisement illustration. Over time, the presence of the three dimensions becomes more frequent in his work. He has designed avant-garde fallas as the ones of the City Hall square in Valencia (1986 and 1987), or the ones in Na Jordana square (2005 and 2011), and the walkable giant figure of Gulliver in the dried Turia riverbed, in this city as well.

Since 1981 he has edited 12 comic books, also illustrated 6 books and designed 25 posters. Nowadays he lives in Sagunto (Valencia) and he still draws comics. He has begun to teach again postgraduate courses in The Fine Arts College of Valencia and monographic courses in ESAT, in the same city.

His latest work "A rookie doctor" has been awarded in the sixth edition of Fnac / Sin sense International Prize for International Graphic Novel Award.

www.sento.es


Our partners from IES Alto Palancia, Segorbe published a couple of project articles in the local press. Good chance for all of your readers to practise your Spanish and Catalan.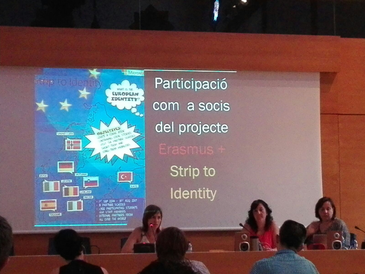 On 31 May 2017 we were invited to come and speak at an event organized by our local educational authorities about the European Language Portfolio (ELP) in Valencia.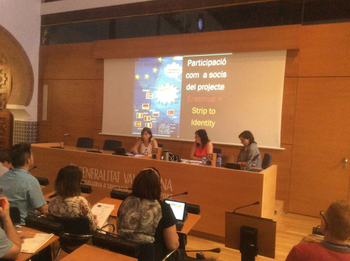 We talked to other secondary school teachers and educational authorities about the importance of the Erasmus project Strip-to-Identity in our school, connected to the other multi-lingual programs we are developing in our school.