Turning traditional stories into a comic strip
Example (Shanghai, China)
Example (Rush, Ireland)
Once upon a time there was a king called Lir who had four children: a daughter called Fionnuala and three sons called Aodh, Fiachra and Con. Their mother had died. King Lir saw that his children needed a new mother, so he decided to marry again. His new wife was called Aoife, She was jealous of the four children. So she planned to get rid of them. In the castle, there was a lake where the children always played. One day Aoife came with them. She suddenly took out a magic wand and waved it over them. The children vanished. In their place were four swans. One of the swans spoke with Fionnuala's voice asked Aoife what had she done to them. Aoife had told them that she cast a spell on the children to be swans For nine hundred years. They will spend three hundred years in the castles lake, three hundred years on the Sea of Moyle and three hundred years on the Isle of Glora. Only the sound of a church bells can break the spell. When the children did not come home that evening, the king went to look for them by the lake. When he came near, four swans swam up to him. He was amazed when they began to call out to him, saying that the swans were his children and that Aoife put a magic spell on them. The king went back to his castle and begged Aoife to turn the swans back into children, but she said no. Now King Lir knew how wicked she was and he banished her from his kingdom. He would reward anyone who could break the spell, but no one knew how to break it. King Lir spent the rest of his time talking to his children, until he got old and died. Three hundred years went by and they had to move to the Sea of Moyle. That was a very stormy, wild place and their lives were very hard there. The years went by very slowly. Then they moved to the Isle of Glora; by that time they had all become very old. One day they heard the sound of a church bell. A monk had come to the island and built a church. They went to the monk. He saw four swans standing in front of him slowly changing into four very old people. He blessed them and they died.
In Tir na nÓg the most famous adventure tale, Oisin is visited by a fairy woman called Níamh Chinn Óir. (Niamh of the Golden Hair or Head). One of the daughters of Manannán Mac Lir, (A god of the sea), takes him away to Tir na nÓg because she loves him. Tir na nÓg in Irish means "The land of the youth". Manannán Mac Lir gave birth to Oisín's famous son, Oscar, and a daughter, Plor na mBan - "Flower of Women". After what seems to be three years Oisín decides to return to Ireland, but 300 years have passed there. Niamh gives him her white horse, Embarr, and warns him not to dismount because if his feet touch the ground those 300 years will catch up with him and he will become old and withered. Oisín returns home and finds the hill of Almu, Fionn's home abandoned . Later, while trying to help some men who were building a road in Gleann na Smól lift a stone out of the way onto a wagon, he loses his balance and he falls to the ground, becoming an old man just as Niamh had predicted. The horse returns to Tir na nÓg. Oisin is never to be seen again.
Example (Sandnessjøen, Norway)
Example (Segorbe, Spain)
The Spanish comic is a mixture of different episodes of the best Spanish picaresque novels and legends of all times. Our students have updated these stories by creating a new character, Vicent from Segorbe, who will live his adventures in this town and in Valencia, the capital city of the Valencian Community. The story is set in the 20th century. In 1950 (in the aftermath of the Spanish Civil War), Vicent, the eldest son of a very poor family from Segorbe, is abandoned by his father in Valencia, in the crowded Central Market. At the time, people believed that those children who were abandoned in that place were adopted by rich merchants and, sooner or later, they made a fortune. However, poor Vicent is not very lucky and he will be picked up first by a pedlar, then by an alleged knight… and, this way, he will grow up surrounded by rascals, scoundrels, swindlers, and other evil people.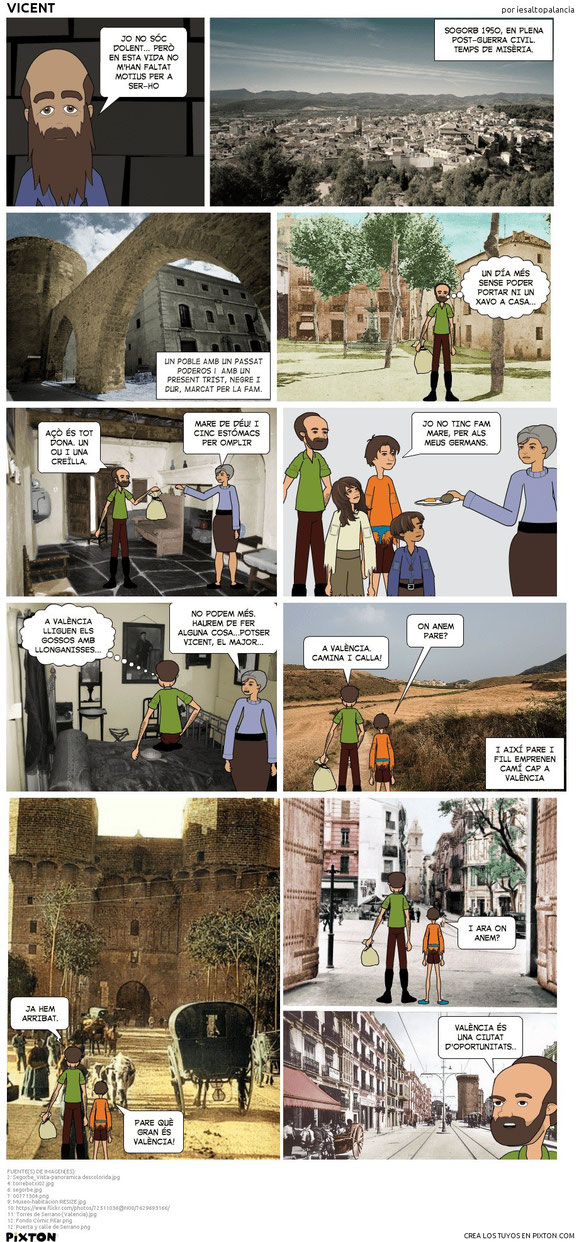 Example (Ljubljana, Slovenia)
Martin Krpan, a smuggler by profession, makes a living by illegally transporting English salt. On one of his travels, Krpan meets the imperial carriage on a snowbound road, and makes way for it by picking up his laden horse and moving it aside. His extraordinary strength is noted by the Emperor John (cesar Janez). Several years later, the Emperor summons Krpan to Vienna in order to fight as the Empire's last hope against Brdaus (Slovene: Brdavs), a brutal warrior. Krpan accepts the challenge, and defeats the brute in a duel by using both his strength and his ingenuity. In gratitude, the Emperor gives him a special permit to legally traffic in English salt, as well as a pouch of gold pieces.
The story of Peter Klepec is one of the most widely known folk tales in Slovenia. Peter Klepec was a kind, hard-working boy from a very poor family in the village of Osilnica. When he was old enough Peter became a shepherd. However, Peter was the victim of unpleasant bullying by other young shepherds - being forced to do their work. One hot summer day Peter's flock disappeared. He began searching for them, but instead of sheep he came across one of the mysterious mountain fairies.  The mountain fairy told Peter that she would grant him one wish, to which the boy asked simply to be strong. After that, Peter made it known to the other shepherds that they would be doing their own work from now on, by demonstrating his strength. Next he removed all the rocks from his mother's garden and he defeated all of the invading Turkish armies and saved the entire region from Ottoman rule.
Example (Ancona, Italy)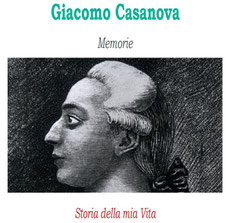 Ancona, city of seas and discoveries
We wanted to tell two visual stories. Their main character is the famous 18th-century adventurer Giacomo Casanova, who came to our city more than once. Ancona is a cosmopolitan city which was really dear to him and where he had two of his great affairs. We made a few changes of what is narrated in his memoires. In "La Schiava Greca" (the Greek Slave) the wonderful Lazzaretto (made by Vanvitelli) becomes the meeting place for two young people coming from worlds apart, the Venetian Giacomo and the Greek girl he falls in love with. In "Casanova and Bellino" we have imagined the future great womanizer receiving from a weird boy an unexpected lesson on the respect a woman deserves. In both cases the setting is the harbour of Ancona, crossroads of different cultures, population and people for centuries.
Example (Chiaravalle, Italy)
Summary: The story is about a girl named Francesca da Polenta who was blatantly tricked into marrying Gianciotto Malatesta, crippled and rude, when the handsome and elegant Paolo was sent in his brother's place to settle the nuptial contract. Mad at finding herself wed to Gianciotto, Francesca did not hesitate to express her affection for Paolo and the two in fact soon became lovers. Informed of the betrayal, Gianciotto one day caught them together… 
Paolo and Francesca
Paolo and Francesca (English version)
Paolo_e_Francesca_EN.pdf
Adobe Acrobat Document
5.6 MB
Example (Germany, Potsdam)
On 1 October 14 Potsdam students worked on the completion of the German version of their comic book. The stories are a combination of 5 local legends. You can have a look at a screenshot of each comic book below.
Example (Turkey, Elazig)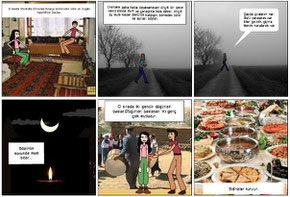 Our Turkish partners from Elazig are the first to finish their contribution to the Strip to Identity comic book collection.
Below you can download the first version in pdf-format.
After proofreading and translating it into English, the final version will be available for download too.
Example (Belgium, Leuven)

Whitey (in Dutch "De Witte van Zichem" is a novel written by Flemish (heimat-) author Ernest Claes', titled after the nickname (Dutch "the White", referring to a blond male) of the main character.
Zichem, region of Flemish Brabant, 1901. Louis Verheyden, 11 years old, lives with his parents and two brothers on a farm. His mother is a complaining woman. Father works at the farm of landowner Coene. He is mostly only home during dinner. He is a rather aggressive man and beats Louis frequently. Furthermore, Louis is bullied by his brothers Nis and Heinke. Louis hates school. This is mostly caused as his teacher is a very hard man who likes to punish his pupils. Corporal punishment was not yet forbidden those days and the children are cuffed on the ears or put into the coal chamber by the teachers.
Louis is a smart but naughty boy. He gives others incorrect directions, tries to wheedle his brothers out of money, ties up people to their chairs during church service, steals smoking materials from Coene, gives his family members instructions to put salt onto the potatoes (resulting they are salted three times), chases off Coene's horses,... Louis is almost caught every time which results in another punishment.
Louis' eternal mischief, pranks and disobedience drive his elders (especially teachers, family and father's grumpy employer, a rich farmer, but also neighbors and even the kind curate whose liturgical server he is) and classmates to despair in a time when a boy's punishment was still inevitable, swift and often severe. When his mother catches him skinny dipping one day, she takes all his clothes home, forcing him to a long walk of shame, dreading dad's wrath all the way.
One day, Louis is again punished by his teacher and locked up in the cellar. There he finds some books written by Hendrik Conscience. His attention is attracted by the book "De Leeuw van Vlaanderen" (translated as "The Lion of Flanders"), a book about the Battle of the Golden Spurs. The story fascinates him and he goads his friends to replay a fight scene. Some children run home with injuries after doing so. Their mothers and the local priest come to the battle. Louis, wholly engrossed in his role as warrior Jan Breydel, is not even aware that he has just started a "sword battle" with the priest...
Next to the funny plot, the story also stresses social, religious and political (Flamingant) aspects.