Leah's mobility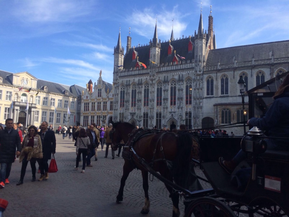 Since I got here, to Belgium, I have already done so much. The plane ride was horrible but I made it over alive! On the day that I arrived, it was already late so I just went to sleep for school the next day. My second day here was just like any other normal day, get up and go to school, we got a start on learning Dutch, and then got the bus back home. Everything was still a bit strange to me, so I rested when I got home. Not so eventful but it was only my second day, first day at school, and we didn't have normal classes. It was just an introduction day. My third day, it was quite a busy day but I really enjoyed it. We learned some more Dutch in the morning and learned the pronunciations. When I got back to my host sister's home, she asked me if we wanted to go to the cinema and I could meet 2 of her friends. We got ready and went to see "Beauty and the beast". After the movie we met up with Emma and her host sister and played some pool in a place where they hung out most of the time. My fourth day, I met my host family's parent and ate dinner in her house as they do every Sunday. The food was so good, my favourite since I got here. After food, we went to their favourite ice cream place and got ice cream. I decided to let them choose what I had as I didn't know what was best. They chose a typical Belgian ice cream for me to try, and it was probably the best ice cream I have ever tried. Yesterday, my fifth day was kind of different. We got the bus together and went to school, but we did research for our projects, we got pizza for lunch with doesn't happen often. After lunch we did another class of research and then we did sports (P.E). I was expecting something like football or gymnastics like we do back at home but I was wrong. We played pool. The boys and girls got split up and all of us girls walked down to the place to play pool, It was a long walk in the heat. It was the hottest day since I got here, around 18°. When I got home I was really tired so I took a nap. It is currently my 6th day here and it is the last day of exams, later we will go out for food and just enjoy the rest of the day.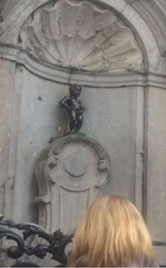 Coming up to my second week here there has been good days and bad days, bad days meaning getting somewhat homesick and good days meaning going out and doing things, chill nights in with the family. I've gone for an interview at the Irish institute in Leuven and done one of the work days so far, we go every Wednesday and my first one was recently. Since the work is spread out in different parts of the institute the first place I worked was in the kitchen, quite tiring running around trying to keep on top of everything, but I also enjoyed doing something different. I've been to Brussels with one of my host sisters and her friend and it was really nice to spend the day out shopping and seeing different places like Manneke Pis and then going for a meal.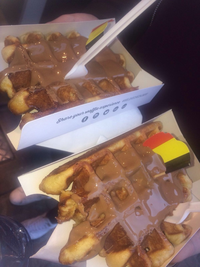 I've tried sushi for the first time and had many different meals I've never eaten before. On Monday, We went to Walibi theme park, we had to leave really early in the morning to get one train to Leuven and one to Walibi, the train stops right beside the park. I've never been on a rollercoaster and I was really scared too, but I didn't want to miss on the fun so I went on them, I also really enjoyed them. We went and ate food in the theme park. As Easter is very soon, I helped make Greek Easter bread with the family and we dyed hard boiled eggs red. I really enjoyed that, there really is never a dull moment and I'm really enjoying my stay here.