Emma's mobility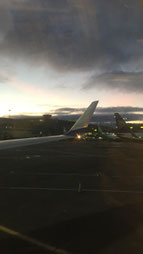 Since my arrival on Thursday (6 days ago) I've done and experienced a lot of new things. In a nutshell, I have incorrectly pronounced every Dutch word I've tried to say, wished everyone a Happy St. Patricks Day and then explained who St. Patrick is, attended the funeral of a well-beloved hamster, and experienced how it feels like to be new to a school. My first day here was quite hectic. I got an early flight from Dublin to Brussels at 6:30am. My flight was made a lot easier as I flew with Daniel and Stijn who were going back to Belgium for a week for a trip. I met my host sister Laura at the airport and we got a bus to Zaventem where she lives. We got to her house and she showed me around before we got ready for school. I was very nervous about going to school for the first time as I wasn't really sure what to expect. The bus to Leuven takes 50 minutes so each day I have to wake up at around 6:30 so I can get the bus.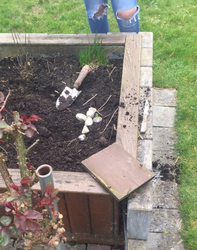 The first thing that really surprised me was the size of the school, both in size and number of students. The school building is huge and there aren't near as many students as school back home. For the first afternoon, I stayed in Laura's class which is tourism. The very first lesson was intimidating to say the least as the class was taught completely in Dutch. I became very nervous about school at that point as I felt the language barrier would cause a problem. But, rest assured 4 school days later and I'm really enjoying school. In some lessons, the teacher will explain what the class in doing in English which means I'm able to participate a lot more. Today (Tuesday) I'm starting Dutch lessons. My goal for Dutch is to be able to speak as much as possible before the 8 weeks are over and also to be able to speak some Dutch when I'm out with friends. I also gave a presentation to the project management class about Ireland and they had a lot of questions for me about life in Ireland and people my age. It was nice to hear such an interest.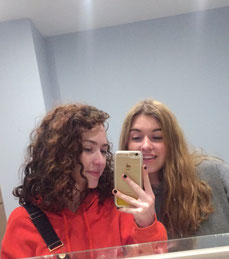 My second day here was St. Patricks Day, which was really fun. I was glad that a few people knew about it and wished me a happy St. Patricks Day. Also, on just my second day of settling into Belgium, I attended my first hamster funeral! The well-beloved pet of Laura's friend Jelle received a proper send off, it was also really funny as we all couldn't stop laughing. I don't think I'll ever forget it! I'm also really happy with my host family. I get along very well with my host sister Laura and her mother, father and sister. They were so welcoming and made me feel really at home. I'm very grateful JI'm really looking forward to the next 2 months.
My second week here in Belgium and so far it's been amazing. I've met so many new people, visited Brussels and also supported the Red Devils a couple of times!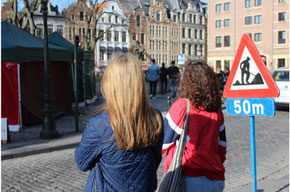 Since Leah's arrival, we have been working on our school system comparison projects because the other students in the school are doing their exams. I also have a French oral assessment in two days which I'm quite nervous for but the students here find it so easy! For my project, I will be comparing the Irish and Flemish school system while focusing on Transition Year and Student Voice, two things in the Irish school system that stand out greatly from the Flemish one. Here I will include input from other students from St Joseph's on how they feel about it their experiences with either Transition Year or Student Voice so I'm very excited to get into that.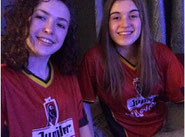 The past week I have also been participating in class more as the teachers have started to either teach the class fully in English or explained in English after explaining in Dutch. I came to find that I found the subject of tourism quite interesting and even learned a thing or two about having a career in it.I look forward to the coming weeks here in Belgium!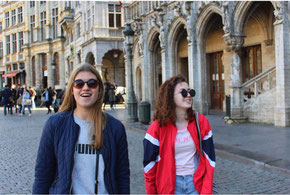 My third week here has been a little less hectic. As I'm not in school, I've had a lot of free time to spend time with my host family and also do things with my host sister Laura and her friends. For the second week of the Easter break I've decided to come home to Ireland for a couple of days. Even though I had convinced myself that homesickness wouldn't be a problem for me over there, I've proved myself wrong! But I'm keeping in mind that there's nothing wrong with missing home, if anything it's made me appreciate it a lot more which without thisexperience I wouldn't have been able to realise! But I'm also eager to get back to Belgium and go to school and see Laura and her family again.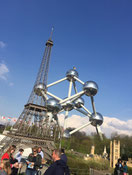 Leah and I started work experience last week in the Leuven Institute for Ireland. I was really shocked when we came in and pretty much every staff member was Irish. After spending the day there, I almost forgot that I was in Belgium! There, we will do hospitality and office work one day every week. On Wednesday, I will go in and help prepare for a visit of 80 students and lecturers from Trinity College Dublin. I'm also very happy that my host sister Laura will be coming over to Ireland with me for 3 days and will come to the TY ball with me. We're both very excited!
Last week, I went home to Ireland for 10 days. Although I had previously hoped that I wouldn't miss home, I was glad to see my friends and family for a few days. When I came back to Belgium, I came with 3 of my teachers and 8 other students from my school in Ireland who were coming to Belgium as part of their comic book course. The next day, they came to school with us and we did a murder mystery around Leuven. I really enjoyed as I hadn't seen all of the city yet. After that, we went ice skating which was terrifying but also really enjoyable. Sunday was their last day here and that morning, I met up with them in Brussels where one of the teachers who is involved in the comic book programme, gave us all a tour of Brussels city. I had a lot of fun with my fellow classmates and teachers. Now, I'm back in school and have switched from Tourism to IPM (International Project Management) as personally, I didn't find Tourism that interesting. The variety of subjects is probably the biggest difference in the Flemish and Irish school systems. For example, I always look forward to classes like Science and Art where I have a huge interest and also there's quite a difference from the typical subjects. Whereas here, the subjects are all related depending on which direction you choose. For my project, I'll be going into more detail on these differences. I also did work experience in the Irish Institute again. This time, I worked in dining where I washed and dried dishes, cleaned the dining hall, polished the silverware and also set up the fine dining hall which took way longer than you would presume as we had to be precise with how each place was set up. I'm looking forward to Parlamentarium Brussels on the 4th of May, which will be the final conference of the Strip to Identity programme. I'm also flying back to Ireland that evening for my TY ball.