Learning mobility blog 2016
Patrick (Rush)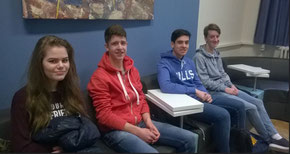 Blog One 29th February 2016
My first week in Belgium flew by so fast I have settled in with my family quickly. My host family lives in Leefdaal which is in-between Leuven and Brussels. It's a 20 minute bus journey to the school in Leuven. The school is a lot bigger than what i am used to in Ireland. The school has four floors and six buildings so it is very confusing to find the class rooms I often get lost most of the time with the other Irish students. When we do get lost the students and teachers help us as most of them have very good English.
I have noticed in my first week that Belgium is a lot colder than Ireland as it has been below 0° some days and even on Wednesday it snowed for about an hour. The city of Leuven is always busy and full of people. Cycling in Belgium is very popular as there are cyclists everywhere you go. I'm trying my best not to get hit by one every time I walk around Leuven.
I must say one thing really like in Belgium is the food. My host mother is an excellent cook and her traditional Belgium dinners are amazing. On my second day in Belgium we went on a family day out to the ice skating rink in Haasrode. I have not skated in years so my host family were teaching me how, they were a great help. I lost count from how many times I fell but eventually I got the hang of it. I really enjoyed it. 
The family speak French, English and Flemish but mostly they speak Flemish in my opinion the language sounds very aggressive but I would like to learn and speak it. The family have great English so it makes my life a lot easier but hopefully by the end of the two months I will be able to have a conversation with them in Flemish.
I am keeping in touch with my family and friends in Ireland to see if everything is ok in Ireland. It has been a great first week in Belgium.
23rd of March
It's now the first week in March. Belgium is a lot colder even though we are in Spring. The students are preparing for their exams before the Easter break. On Saturday we went to HDC (Heilig Drievuldigheidscollege primary school) in Leuven to watch the youngest sister's show. I enjoyed the show but I couldn't understand any of it as it was in Flemish. Afterwards we went to a Mexican restaurant for some dinner. The Mexican restaurant was delicious. When we had finished our meal we returned home. The next day Michael's host family invited me to go with them to Antwerp for the day. At Michael's house I met up with the Irish students Evelina and Ciarán. When we arrived in Antwerp we visited a castle (Het Steen) and a church (Cathedral of Our Lady). Antwerp was very busy also as we were walking through the city we did some shopping. When I was in Antwerp I noticed there were army soldiers patrolling up and down the main streets in the city. We met up with Michael's family at a restaurant and we ate there. Michaels family were at a show before we went to the restaurant. I arrived at my house at 11:30 pm and I was up for school the next day at 6:40.
On Tuesday Evelina and I went home to Ireland because our class are heading to Paris on Thursday. On Thursday I met up with my friends at the airport and we set off for Paris. Paris was amazing we visited many tourist attractions such as La Louvre, Stade de France, the Eiffel Tower and many more. My favourite trip was when we visited the Eiffel Tower. The view was amazing. We returned back to Dublin late on Sunday night. Everybody was exhausted from the great weekend in Paris. Two days later I flew back to Brussels with Evelina. That week just flew by so fast.
On our first day back in Brussels Evelina and Michael went to St. Pieterscollege for the week, it's on the other side of Leuven. Ciaran and I are in Miniemeninstituut learning Dutch because all of the students have exams until the Easter holidays. Dutch is hard to speak but some words are similar in French and in English so it makes it easier it's just how you pronounce the word. But Dirk and my host family are helping me trying to speak. While we were studying Dutch Dirk introduced a new way of learning. It is through One Note. The app is very helpful and useful as I can do video and audio recordings. It is almost like inputting sticky notes anywhere on a word page. In my opinion it is a great and unique way for people to learn languages and everyone trying to learn a language should use it. I am going to try and prove this by teaching students in 6IPM with Ciaran through One Note with an Irish lesson I prepared on the app.  
This week Ciarán and Michael flew home to Ireland and Evelina was in St. Pieterscollege so I was by myself. On Friday Dirk invited me to go with him to go to the Irish College. It was only a 10-minute walk so it was easy to get to. When we arrived in the college we were greeted by an Irish band who played in the institute the day before and by Christina Geary, the conference coordinator. The Irish College was old but modern at the same time. It had pictures of Ireland so it made me feel like I was home. The Strip to Identity final conference will be held there.
Next Tuesday I thought was going to be a normal day in school but it wasn't. We got news that 2 bombs went off in Brussels airport. It's crazy to think that we were in that airport a week ago. Within the next few minutes another bomb went off in the Metro station beside the EU buildings. I started to get worried as my host mother works near there but I texted her and she was ok, my nerves began to ease. Belgium has been on lockdown ever since. I feel horrible for the innocent people that were in the tragedy and people who have lost a loved one. I'm really enjoying myself in Belgium but it's going to be different now that this tragedy has happened.