Learning mobility blog 2015
Ellie and Ross in Leuven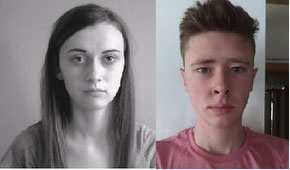 I must say, the first thing I thought of when I was arriving in Belgium was how much it reminded me of Ireland. The weather wasn't the best when we arrived. It was cloudy, cold and there was very light rain. I felt as though I was just going to stay in a different part of Ireland.There are fields absolutely everywhere. Although instead of potatoes, they grow pears and oranges. I felt at home as soon as I arrived. I have to admit, I was quite nervous in the airport before leaving and on the plane. However, when I met the woman I'm staying with, who is from Belfast by the way, that calmed my nerves. It's good to know that I'm not the only Irish person living in the house.
The family live on a street called Moorter, in a town called Haacht. It's about a ten minute train ride from Leuven, the city where I will be going to school. The town is lovely. Every Wednesday there is a market in the main square where you can go to get fresh vegetables, meat and clothes. Leuven is also a beautiful city. As it is a "student city", the place is quite busy most of the time. During the holidays, Leuven was particularly lively as everybody was going shopping and hanging out in the good weather. The city itself is quite easy to get around. The buildings are lovely as well, particularly around the cathedral. I get the train into Leuven for school everyday at quarter to eight. It then takes about five minutes to walk to the school.
So far in school I have done only two Dutch classes. In my opinion, it is a very harsh language and it is quite difficult to speak. However, at home, all conversation is spoken through Flemish. I have learned that the two are quite different in the pronunciation of a lot of words. I am starting to understand some conversations between the family but most of the time I don't have a clue about what's being said. But I am enjoying the Dutch classes. It makes it easier to learn when there are only two people in the class. I will start doing my other classes when the holidays finish, on the 20th of April.
I'm keeping in touch with my friends and family everyday just to see how things are at home. So far everything here is great. I cant wait to start school properly and to meet everybody.
(Ross' blog, part 1)
My first few weeks in Belgium are going really well. I have settled in with my new family quite quickly and they have made me feel very welcome. The weather during the first week was the same as your typical Irish weather. The past 2 weeks have been really warm and sunny! The students had exams for the first week so I only had to go to school for an hour or so for a couple of days. We agreed on a timetable and got to meet some of the students that would be in our class. It's very strange walking through the school and hearing everyone talking in Dutch but luckily enough, many of the students and teachers can speak good English.
During the two weeks of Easter holidays, I had the chance to explore Brussels with my host sister, Sophie. We spent a lot of time shopping during the two weeks so lets hope that I can fit it all in my case for coming home. We visited Holland a few times to see Sophie's grandparents and to visit Leiden University and the Hague. Holland is one of my favourite places to visit as I feel like the lifestyle is different and better compared to back home in Ireland. We also took a 2-hour drive to a town called Lille in France which was amazing.
On Sunday, we spent the day in Brussels where I had the chance to walk around the city and enjoy the amazing weather. When I arrived in Belgium, I had 62 days here which I thought would drag but surprisingly, the days are just flying by! I have roughly 34 days to go so I'm nearly halfway there already!
(Ellie's blog, part 1)
My first week in school went quite well. The school days here are different here compared to back in Ireland. My day starts at 6 am (5 am in Ireland), which then gives me an hour or so to get ready to take the bus around 7.15. I have an hour bus journey each morning and school starts at 8.35. Each lesson lasts 50 minutes. Even though it's 10 minutes longer than what I'm used to, you can still feel the difference. We start with two lessons, then a 15 minute break. We then have 2 more lessons and then a 50 minute lunch. Anyone who is over 15 years old is allowed out for their lunch break. After lunch, there's another 2 lessons, a 10 minute break then 1 more lesson. School ends at 15.40 each day except for Wednesdays, when we finish at lunch.
A lot of the topics that are covered in classes are the same as what we do at home. What the fifth years do here is similar to what we cover in third year but sometimes they go into more detail. Each form class have their own classroom where they do most of their lessons, so instead of the students moving from class to class, the teacher comes to them. The school has no uniform and there is a much more relaxed feel around the place. If I had the choice whether to go to school in Ireland or Belgium, I would pick Belgium because it feels like the students have more freedom here.
(Ellie's blog, part 2)
My last week and a half in Belgium have been quite hectic. Last Wednesday, we went to Antwerp for the day. When we arrived, I was shocked by the train station. Not only did we arrive on a double decker train, but the station was also four stories tall.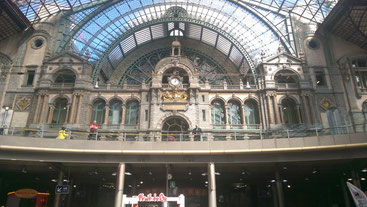 Antwerp Central Station
We went to the main shopping street and spent most of our day there. We also got the best day for it, at one point the temperature reached 27 degrees. I did a bit of shopping and we got some food. Some of the buildings in Antwerp are amazing. On Thursday, we went to check out Genk. There was a massive market happening throughout most of the streets for the whole morning. We had a look around, got something to eat and then went over to the shopping centre. We went for dinner in a lovely restaurant before heading home.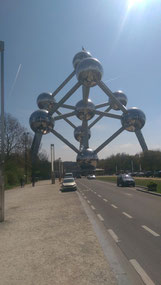 I have a cousin who lives in Brussels so I went and stayed with her for the weekend. On Saturday, we went to all the big tourist attractions around Brussels, such as the Manneken Pis, the Atomium, the Royal Palace and Cinquantenaire square. My cousin lives in the European quarter of the city. That is where all of the embassies are based. It's a lovely area but she told me that the army and police often patrol the area and shut down streets for safety reasons. We went to some of the bars for a drink and because of the good weather, every single one was packed. People were waiting for ages just to get a seat in the sun. There was a really good atmosphere around the place, I'll definitely be going back in the future.
We also went to the local bar quite a lot to play a game called bumper pool. It is a game play five white balls and five red balls and only two pockets. There are also obstacles in the middle of the table that you have to play around. It requires quite a lot of patience but I think it's very fun.
I start school tomorrow and will get to meet the whole class for the first time. I'm really excited to see how different it is compared to our school. I expect that it will be quite difficult to get around since it is pretty big, but I'll get there. 
(Ross' blog, part 2)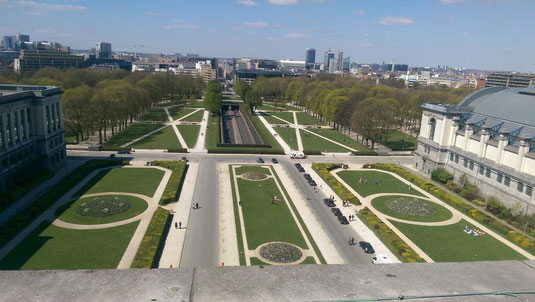 This is my third week in school and I must say there are so many differences. The first thing I have to point out is how languages here are thought. The teacher speaks that language and that language alone. I attend French class here and the teacher only speaks English to me, but speaks French to all other students. When they first start learning French or German, the teacher will speak only that language and so the students actually learn how to speak the language first rather than writing out vocabulary and grammar. Also, because they start speaking different languages at such an early age, writing it becomes second nature to them. Some people here can speak fluent Dutch, German, French, Flemish and English. Whereas in Ireland, we can only speak English fluently, and bits of French, German, Spanish etc. We should be fluent in Irish after learning it for all these years, but again very few people my age actually are.
I am really enjoying it here though, everybody has been so welcoming and helpful to me. The fact that everybody can speak English makes it easier to get involved with everything. The teachers are all really nice as well. I find it hard to follow the classes as they are all done through Dutch, but some of the teachers will translate there lessons into English so me and Ellie are able to get involved. English is really the only class that I'm completely able to follow. French is ok, but the stuff they do is more much difficult as was expected.

The students here choose the line of work that they want go into when they enter secondary school. For example, Sórcha, my host, does classes based around economics and languages. But other classes include International Project Management and Tourism studies. I was also told that I am going to Aachen in Germany on May 19th with the fouth years and fifth years. 

The only problem that I am having so far is getting up for school. I have to get up at seven every morning and be in school for half eight. I leave for the train station at 7:40 and my train arrives at 8:07. I've been enjoying it so much so far, I can't believe I only have three weeks left. Time is flying by.

(Ross' blog, part 3)
The past few weeks have been quite busy for me. On the 1st May, Sophie and I went to Bergen op Zoom in the south of the Netherlands. All the shops were open for late night shopping so we spent our evening there and went for dinner at a restaurant. The next day, we got up early to take a trip to Amsterdam. The drive takes around two hours but it was definitely worth it. Amsterdam has always been a place I've wanted to visit so I'm glad I got to experience it. It One thing that I didn't like about it was the fact that it was overcrowded but it was nice to see and hear so many different nationalities in one place. As much as I enjoy going to a Dutch-speaking school, I love being able to go home each day to an English-speaking family. It gives a nice balance between the two languages. I still find Dutch a difficult language but as time goes on, I am starting to understand a lot more than before. On Tuesday, I went with the 4th and 5th years to Aachen in Germany. Everyone was split into teams and had to walk around the city, trying to find out the answers to historical/cultural questions. We were also given some free time to have lunch and go shopping. I've been lucky enough to not only just come to Belgium, but to also have visited France, Holland and Germany too. I am so grateful for getting the opportunity to do this exchange and it has made me see how different my life is compared to the Belgian students.

(Ellie's blog, part 3)