Kick-off meeting
Archive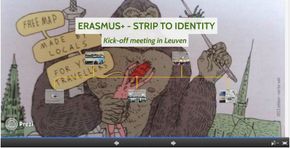 Italy's student Diego Ciacci made this nice Prezi presentation about the kick-off meeting. Enjoy if you couldn't make it and re-enjoy if you could!
Thank you very much and congratulations, Diego!
5 IPM has recorded it's first radio programme at Radio Scorpio, one of Leuven's local radio stations. Our students were taught how to write, present, record, edit and broadcast a professional radio programme.
According to them, there couldn't be a better way to make a project report. Curious? Here's the link...
Presentations

Dirk Staf: Coordinator's project overview
How it all began - project scope and aims.
StID_november2014.ppt.pps
Microsoft Power Point Presentation
892.0 KB

Sheila Casey, European identity
Sheila Casey's search for her European identity - reflexions on life, studies and influences Europe has had on her.
Sheila Casey.pptx
Microsoft Power Point Presentation
2.6 MB

Guy Tilkin, project competences
Role of Alden Biesen - how to evaluate informal learning and project skills.
Guy_Tilkin.ppt.pps
Microsoft Power Point Presentation
4.0 MB

Ellen Laureys, SEN teaching in Belgium
History and characteristics of special needs teaching in Belgium
voorstelling Alden Biesen_Ellen.ppt.pps
Microsoft Power Point Presentation
369.0 KB

Martina Giuliano, SEN teaching in Italy
History and characteristics of special needs teaching in Italy
Presentation_SEN.pptx
Microsoft Power Point Presentation
99.7 KB