Joint school calendar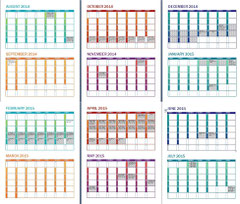 Click the link below to download our joint school calendar.
All 9 school coordinators will add their specific national/regional/local school holidays, resulting in a schedule of availabilities to exchange project work, to organize project meetings etc.
Grey areas mean holidays or days off at one or more schools. White cells mean every school is open and ready to do project work.
Common school calendar
Common school calendar for the 2014-2015 school year.
Update 5
joint_school_calendar_V05.doc
Microsoft Word Document
223.5 KB