Closure event May 2017
Impressions on a great week
Slovenian delegation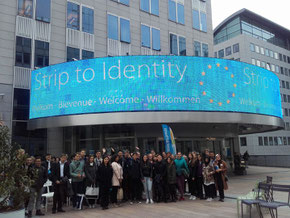 Our impressions of the Erasmus+ project & the visit to Belgium
Visiting Belgium was a wonderful experience for us students. Not only were we able to participate in this great project, but we
also managed to meet some amazing people that we will never forget. We have been excited about this trip ever since two students (Jarn and Giel) from the Belgian delegation visited Slovenia back in February. They told us great things about Belgium and even though our expectations were set quite high, they still managed to amaze us with an interesting and fun programme. Not only were we impressed with what they had prepared, but we were astonished by Belgium itself. Everything from great food and beautiful architecture to the friendly community amazed us in the most pleasant way possible. The project itself was a great way to introduce a new way of learning which does not include sitting in front of a thick book and losing your mind. The different delegations worked together to prepare an exceptional event which was filled with different activities that were both educational and entertaining at the same time. For example, mixing golf with a tour of Leuven was a great way to experience the city. It was also refreshing to try the local delicacies that include everything from waffles to authentic beer. These are only some of the reasons why we enjoyed being a part of this project and hope that the generations to come could also have a chance to be a part of similar projects.
Neja, Žan, Žaklina & Vanesa 
Spanish delegation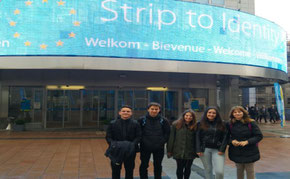 When we left Valencia, we were really excited about participating in the final event of this European project. Being a delegation that was going to be involved actively in the musical part, we were really nervous and anxious to see how the performance would be. Even though it was difficult to bring together all the different musical instruments, it has been an enriching experience to play with musicians from other European countries. The organization of the different activities was great and it called our attention the high participation of the Belgian students. About the excursions we went on, it was surprising for us that Ernest Claes' house had only one floor and that one of the writer's students explained to us his life experience. He came from Scotland and learnt Flemish by reading Claes' books. In Brussels, because of the European Parliament, we have observed that there are a lot of official buildings and you can see European flags everywhere. Finally, we had free time to buy some souvenirs to take home and we could try the famous Belgian waffles and chips. We also saw the Manneken Pis.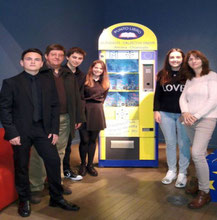 In the event in the Parlamentarium, we learnt from the ideas that the speakers presented. Especially, we liked the speech of Elke, the German coordinator, who talked from her personal experience explaining how valuable an Erasmus+ project is for current young people and the possibilities it offers them. About the speech of Bart Staes, the MP, we would underline the emphasis that he gave to the unity in diversity. The last event in Leuven was the icing on the cake, we did our last performance and went out with the Belgian students. We worked together with the Belgian students planning the events and played Cluedo. On the other hand, the weather in Belgium is very different from Spain. During our stay, it was raining or it was cloudy, except from some moments. However, that does not prevent the Belgians from moving on their bikes. It is also shocking that the city centre in Leuven is mostly pedestrian. It is chaotic with the bikes and people moving in the streets. The times for the meals are also very different from Spain and we had to adjust so as to participate in the scheduled activities. To conclude, we would like to say that this experience has been very rewarding. We had the opportunity to share special moments with other European students collaborating in a common project.
Italian delegation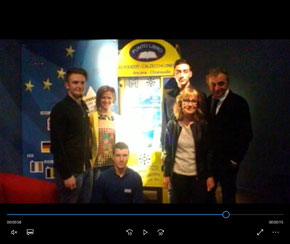 The Italian delegation made both a text and a video report. Click the image on the right to download and watch the clip.
After a long exhausting 18-hour trip we finally arrived in Leuven where we were welcomed enthusiastically by Ymke and Tiffany, two pupils of the Miniemeninstituut.
There our adventure began... an exciting experience but without any uncertain outcomes! Indeed everything had already been planned carefully, down to the last detail! Dirk, Diederik and the 6IPM pupils could organize the final meeting managing to switch between work activities, visits and interactions with the members of the other delegations. This way they made such experience a perfect and balanced mixture of emotions, culture and knowledge. On Tuesday evening we already had a briefing and the morning after we had a meeting where every delegation was assigned their job to be done partly together with all the participants and partly only with the members of their own delegation. We got especially emotional on the day the comic dispenser, made by our school, was inaugurated. We saw the result of our hard working exhibited in the most representative place of the European Union: the European Parliament (well at least the Parlamentarium)! The Strip to Identity experience made us - pupils and teachers - grow and we felt ourselves part of a great European Identity... thank you Leuven! 
German delegation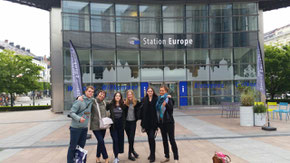 Die letzte Reise im Rahmen des Erasmus+ Programms führte uns wieder einmal nach Leuven, Belgien, denn der Abschluss des "Strip-to-Identity-Comicbuch-Projekts", das von dem Miniemen Instituut in Leuven koordiniert wurde, stand bevor.
Genau aus diesem Grund machten wir, Frau Martensen, Frau Gárate als Lehrer und Josi Mathees und Noël Witaseck als Schüler, uns am Dienstag den 2. Mai auf den Weg nach Brüssel, dann nach Leuven.
Kurz nach der Ankunft startete auch schon das Programm. Sobald alle Delegationen (aus Norwegen, Italien, Spanien, Slovenien und der Türkei) eingetroffen waren, begaben wir uns auf unsere erste Exkursion. Auf dem Programm stand zunächst die Besichtigung des Ernest-Claes-Hauses, Autor der literarischen Vorlage des belgischen Comics. Anschließend durften wir noch eine Abtei besuchen, wo uns ein Mönch durch die Kirche und die Gemäuer führte und uns vom Leben im Kloster erzählte. Abends standen dann Vorbereitungen und Proben für die Abschlussveranstaltungen an.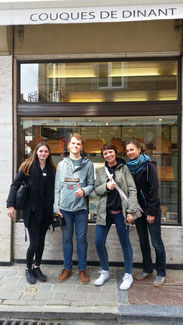 Auch der folgende Tag stand ganz im Zeichen interkultureller Erfahrungen. In verschiedenen Gruppen konnten unterschiedliche Ziele angesteuert werden.
Wir erkundeten zusammen mit den Italienern das Fort der Stadt Namur und eine Keks-Bäckerei, die typische Spezialitäten der Region Dinant herstellt.
Eigentlich sagt man ja immer "erst die Arbeit, dann das Vergnügen…" Bei uns war es aber genau anders herum: abends gab es wieder Proben für die Einweihungsfeier des Comic-Automaten im Parlamentarium des Europaparlaments. Donnerstag war dann der erste große Tag: Geführt von Schülern des Miniemen Instituut machte sich die gesamte buntgemischte Gruppe auf den Weg zum Europaparlament. Dort, im Parlamentarium (dem Besucherbereich des Parlaments) konnten wir verschiedenen Reden lauschen, unter anderem einer eines Parlamentariers des Europaparlaments, einiger Schüler und Lehrer, sowie des Chefs des flämischen katholischen Schulverbands. Höhepunkt dieser Veranstaltung war schließlich die feierliche Einweihung des Comic-Buch-Automaten, den die italienischen Schüler umgemodelt und designt hatten.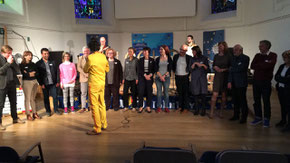 Am Freitag gab es dann die offizielle Abschlussveranstaltung des "Strip-to-Identity-Projekts" in Leuven. Nebst einem feierlichen Empfang wurden in einigen Redebeiträgen von Schülern, Lehrern und einem Professor Lehr- und Lernmethoden des 21. Jahrhunderts der Verlauf und die Ergebnisse des Projekts evaluiert und reflektiert. Zum Ausklang des offiziellen Teils wurde ein erheiterndes Mitmachkonzert der Band "Lennaert & The Bonski's" geboten.
Froh und erleichtert, dass die großen Events gut geklappt hatten und wieder um viele neue Erfahrungen und Kontakte reicher, ging es dann am Samstag wieder zurück.
Etwas Wehmut mischte sich natürlich auch unter die ganzen tollen Erfahrungen, denn es war ja das Abschlusstreffen – zumindest für dieses Projekt… Aber die Kontakte sind geknüpft, das Wissen um die gute Zusammenarbeit vorhanden und Folgeprojekte bereits in der Planung! Die gesammelten Comic-Werke kann man übrigens online ordern (https://www.striptoidentity.eu/comic-book-order-form/)!