Erasmus+ school partnership
Website last updated on 26 October 2016
Segorbe in the picture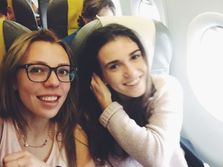 Our project partners in Segorbe (Spain) are receiving Maxine and Lincy, two Belgian final grade pupils for their Strip to Identity learning mobility. We are very grateful to coordinator Manuela, her pupils, colleagues and the host families for their efforts and warm welcome. Lincy and Maxine will be staying until mid November, attend lessons at IES Alto Palancia (Segorbe), be our linking bridges in the final stages of the creation of the Pixton comic books and do supervised distance learning activities using Smartschool and Microsoft Sharepoint educational platforms, practising 21st-century learning skills and bringing modern teaching into practice. Good luck and enjoy! Follow their mobility on their Facebook page or on Lincy's blog.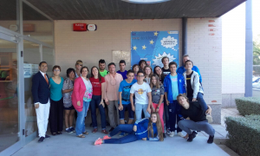 A group of three teachers and six students from Sandnessjøen in Norway and a teacher from Ancona in Italy visited Alto Palancia (Segorbe) for a 10-day period (20-30 September). The teachers visiting us participated in school lessons, meetings with our colleagues, sharing ideas and educational experiences. The Norwegian students were hosted by the families of our students. Both European teachers and students have been involved in a variety of educational and leisure activities. It has been a rich exchange of ideas, language and culture, a great experience for all participants. Also available: press article 1 | article 2 | article 3.
Does European identity exist? 
Please fill in our questionnaire about European Identity.
Click the image below.
Are you a secondary-school pupil?
Is your school situated in Europe?
Then please stop here for 5 minutes and answer our set of questions on European identity.
We will publish the results of the overall survey on this website as soon as possible.
Joint-staff training event in Norway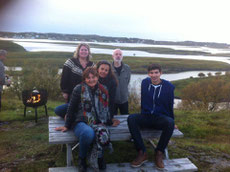 In Sandnessjøen (Norway) the whole month of September was dedicated to another joint-staff training event. Teachers from Italy, Spain, Germany and Belgium took part in all sorts of pedagogical activities, were invited to have a look behind the (school management) scenes etc. Feedback on this training event was published both in the Norwegian and Spanish press and the personal feedback reports written by the participating teachers. We wish you happy reading: article 1 (N) | article 2, article 3 (E) | personal report 1 (E). More articles and reports will follow soon.
Comic books from China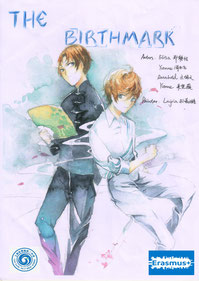 Pupils from Shanghai Cao Yang No.2 High School in China sent us their astonishing hand and self-made comic books. German teacher Julia Martensen, who spent 3 years on a teacher exchange herself, supervised the pupils' hard work.
Visit the "Outcome Example" section and take a close look at the Chinese comic books.
You can download them in 3 languages: Chinese, German and English.
Congratulations to Julia's pupils. You have done a great job and we are proud to call you our Strip to Identity partners!
Italian comics ready to be read
The Italian pupils made 2 comics. The school in Ancona chose the famous 18th-century adventurer Giacomo Casanova as their main character. Casanova came to Ancona more than once. It's a cosmopolitan city which was really dear to him and where he had two of his great affairs. The school in Chiaravalle based their comic on the famous Inferno by Dante. However, they turned it into a love story between Francesca and Paolo. Visit our "Outcome examples" page and enjoy both stories, available in English.
Belgian comic book
Copies of the comic book (Dutch version) can be ordered online.

Official partner of Strip to Identity
Watch our promotional clips below...
About
This website is dedicated to our Key Action 2 school partnership "Strip to Identity".
"Strip to Identity" is secondary school-to-school project, using comic books, comic book software, language, IT and other subjects to create a comic book collection compiled by pupils from many different countries all over Europe (and Asia). All comic books will be based on local picaresque or traditional characters.
The broader project scope is literacy, i.e. the importance of reading skills, the pleasure of reading, solutions to possible reading difficulties and eventually new opportunities to secondary school pupils to study in the interesting, inspiring and motivating environment of an Erasmus+ school partnership.
You will find more information in the project summary.
"I hear and I forget. I see and I remember. I do and I understand."

"Study the past if you want to define the future."
(Confucius, Chinese philosopher)
It is what you read when you don't have to that determines what you will be when you can't help it.

(Oscar Wilde)
"Visual literacy is vital to storytelling" (Hannah Maguire, illustrator, Dublin)

Meanwhile... curious to get to know the differences and similarities between our national school systems? Eurypedia is a tool developed by the EU education department to compare the different systems. You can search by country, education level, topic etc. Have a look!
page counts started on 20/11/2014